Serving Royal Oak & Rochester MI, and Surrounding Communities!
Commercial Painter in Royal Oak, MI
With more than 20 years of experience, Roy & Paul Painting & Decorating is a top Royal Oak, MI, commercial painter. We can handle projects of all sizes, and we'll work in a detailed manner to give you a neat, professional paint job. Our skilled team always works efficiently to deliver prompt project completion on your Royal Oak, MI, commercial painting project.
In every project we do, we use quality paints, so you can be assured that your paint job will look great for years to come. In addition, our paints are environmentally friendly. We have flexible hours available, so we can work at a time that suits your schedule. Our staff does exterior Royal Oak, MI, building painting, as well as interior painting.
Dedicated To Client Satisfaction
When you need a Royal Oak, MI, business painter you can rely on to do an excellent job, we're a great choice. Call Roy & Paul Painting & Decorating today to find out more information.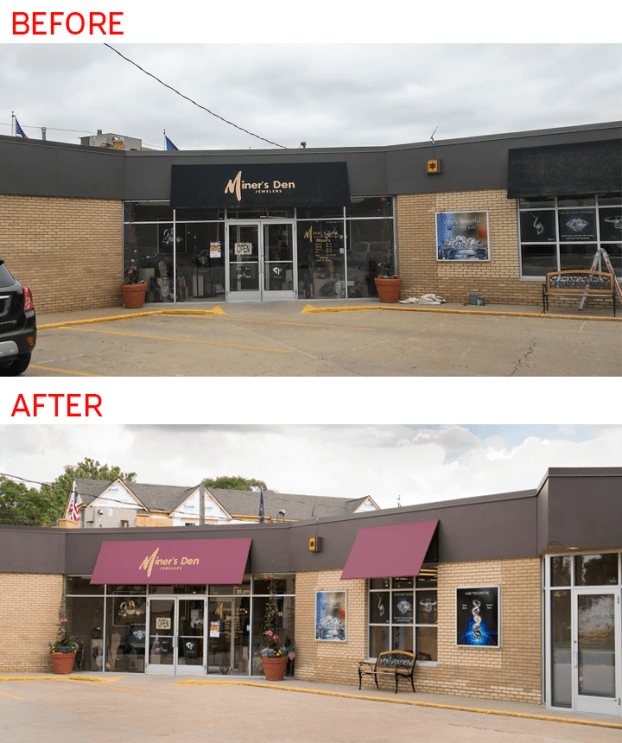 Great company to work with Liz did a fantastic job definitely use them again

- Michael Stevens. 1/26/2020

- Donald Richards. 10/10/2019

Professional and polite, these guys did a great job installing new baseboards and painting our condo! The guys showed up on time, were courteous and polite, made sure our floors and things were protected, and worked diligently through out the day. We will be hiring them again when we are ready to paint our kitchen after renovations. Highly recommend Roy & Paul Painting!

- blondgirl81 . 5/21/2019

Excellent service and quality painting. I have never had such great customer service. I will be using them for every painting project I have moving forward!

- Christopher Green. 10/3/2018

What a pleasure it was to have Roy and Paul Painting paint my house. The whole process from initial call to payment was a pleasure. Paul was prompt with quoting and answering any questions during the initial house visit. He was also available through text and email at any time. The team arrived ready to start when they said they would. The walk through with the team and agreement on expectations was set and agreed. I left the house for a few days, to let the team paint all but the study room on the ground floor of the house. They took great care to cover everything, and move furnishings out of the way. The also cleaned up, apart from the smell of new fresh paint, I would not have known they'd been. Perfect team, perfect company. Itemised and thorough quote provided. Cannot recommend them enough, and they're now my "go-to" painting people. Perfect!

- Ritchie Walsh. 3/26/2017

We've hired Roy and Paul Painting and Decorating to paint both the exterior of our house (2009) and interior of our house (2016). Both times their painters were professional, reliable, and did great work. I highly recommend Roy and Paul!

- Keith Gilbert. 1/2/2017

Paul does a great job and has been back several times to rescue our 91 yr old home..!Thank you Thank you

- Julie Weyand. 11/22/2016

Great guys to work with. Gave us several suggests about the job. Always on time, cleaned up thoroughly, reasonable price.

- beatrice smits. 11/11/2016

Paul made himself as available as possible. As a client I felt that they understood how big of a decision that this can be. Painting can make or break a room. I was able to discuss paint choices with Paul and he came to do a free in-home estimate. The next day the crew came by at 8:30 am. I got a call just after 1pm. They were done! Everything was clean, no paint speckles on the floor or hardware. They had me walk through every room with them to make sure I inspected the work. Every employee was incredibly professional. All smiles and happy to answer any questions or concerns I had. The price was well worth it. This was quality work. They had everything painted in one morning! We were able to move in three days later. I would use them again. I already have plans to!

- Ani Alexanian. 8/26/2016

Have worked with Paul and his crews on various projects. He is puntual, responsive, reasonably priced, professional and above all his painters do outstanding work. I would recommend them to anyone looking for a quality paint job and good customer service.

- Brian Ellison. 9/15/2015

This company is fantastic! They only take a very reasonable amount of time to complete an awesome clean job. I know because I have had them in my home on three different occasions, for my son's bedroom, a play room, and also the basement. All areas look completely different with the new vibrant colors that I chose and they painted with top quality Sherwin-Williams paint. I'm satisfied with the great painting that this company has done and also the professionalism that they represent! Each occasion at my home they've shown great manners, work ethic, and respect. The details of their job is straight forward and very clear on what they will come to do and it's done. My house is fairly new and I have only trusted this painting company to add color to my home when I do decide for a change. My husband and I have been very pleased because when the work is done, it's clean and looks very crisp! I get many compliments on my son's bedroom and playroom constantly and both rooms have been painted for about four years now....paint is still intact and just as vibrant as day one! Now we have recently had parts of our basement painted and again we were not let down. I definitely recommend this company as they truly do a great job in a timely manner! I will consistently come back for their services in the future no doubt. It's amazing what a paint job can do for a space within your home, creating a calm, warm, and/or energetic environment. The guys here have such great manners and are awesome at what they do! They leave your place exactly as it were before, leaving no mess behind. Thanks!!